Chefs on Stage Food Preparation and Culinary Arts Program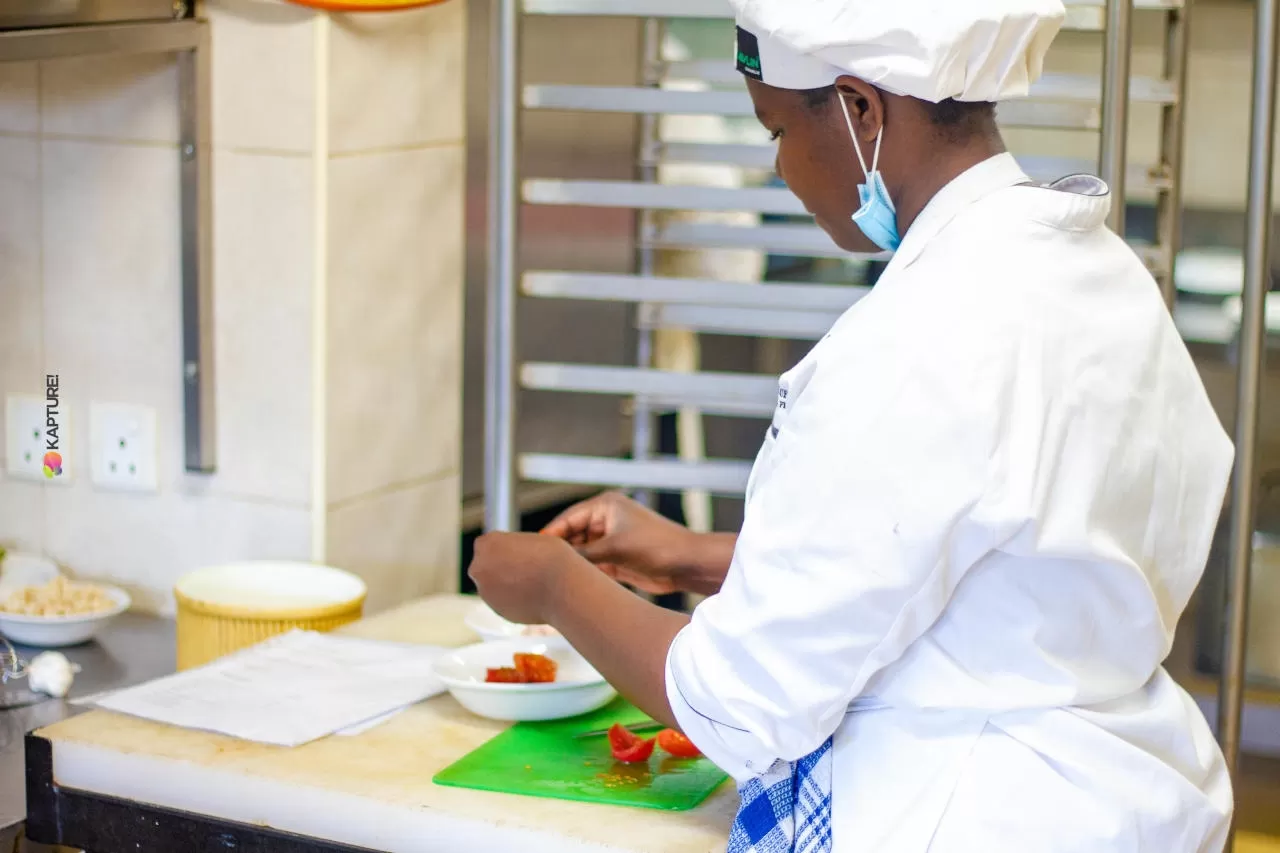 City & Guilds
2 Years
Full Time
8064-01
English
************************** TAB BREAK - COURSE OVERVIEW ****************************
Chefs on Stage Food Preparation and Culinary Arts Program

The 8064 Global Hospitality qualifications.

This is the new home for our Food Preparation and Culinary Arts programs.
These qualifications were developed in partnership with Worldchefs and employers around the world and are uniquely combined to be in line with current industry practices.

These qualifications cover transferable as well as job role specific skills, set out by employers, offering a holistic approach to training learners to be work ready. Sustainability awareness is now a key part of the offer, addressing a critical challenge for the hospitality industry globally.

These qualifications are covered in the two years and they include now include digital badges as a key feature of the new qualifications. Learners who complete their qualifications will receive a digital badge in addition to the City & Guilds certificates.

************************** TAB BREAK - COURSE OUTLINE ****************************
Programs on offer are:

Diploma in Food Preparation and Culinary Arts (10 months )
Diploma in Patisserie ( 6 months)
Advanced Diploma in Culinary Arts Supervision (6 months)
**************************** TAB BREAK - ADMISSION REQUIREMENTS **************************
Entry Requirements

At least 5 'O' Levels including English or 2 'A' Levels.
Age: 18 years and above.
**************************** TAB BREAK - COSTS **************************
Fees Structure
The Chefs on Stage Culinary Arts Program is a two-year program and the fees are as follows. These fees cover the tuition, textbooks and examinations.
ALL FEES ARE QUOTED IN USD
Payment Plan 1
Payment Plan 2
Payment Plan 3
$3,800.00
(Once off payment)
$2,000.00
( 2 instalments in a year)
$420.00
( 10 instalments in a year)
Total Fees Per Year
$3,800.00
Total Fees Per Year
$4,000.00
Total Fees Per Year
$4,200.00
Resource Fees
(Books, Chefs Uniforms and Examinations First Year
$1000.00
$3,900.00
(Once off payment)
$2,200.00
( 2 instalments in a year)
$450.00
( 12 instalments in a year)
Total Fees Per Year
$3,300.00
Total Fees Per Year
$4,200.00
Total Fees Per Year
$4,500.00
Second Year Examination Fees
$1000.00
*Program fees are paid in advance all the time. Payments are done from the 1st of the month to the 7th. Failure to pay the fees will result in interest charges to your account.
2a. Daily Uniforms
As a school we groom individuals who are neatly attired and groomed at all times. The day to day uniform requirements are as follows:
Ladies:
Gentlemen:
Black suit (with slack or skirt)
White shirt
Scarf (colour to be agreed on as a group)
Closed, lowly heeled black shoes
- Black Suit
- White shirt
-Tie (colour to be agreed on as a group)
- Black Leather Shoes
2b. Chefs Uniforms
A
ll of our trainees will have a training session in the kitchens as part of their practical lessons. These uniforms are part of the Resource Fees. The uniform comprises of 2
Chef's Jacket, 2 Chef's Trousers, 2 Mushroom Hats, 2 Aprons And 1 pair of Safety Shoes.
3. French and Digital Skills Passport
All of our trainees are encouraged to obtain an additional internationally spoken language as well as knowledge on the use of computers. As a school we offer the following programs and they are charged for separately.
Delf A1 Diploma (in association with Alliance Francaise) -$360.00 for a year
ICDL - Computer Society of Zimbabwe - $180.00 for the 5 modules
These programs are compulsory unless the trainee has already done the programs and can submit the qualifications with their application.
Payments can be done through the following channels.
Banking Details
RTGS
NOSTRO FCA DEPOSITS
ECOCASH
Stanbic Bank, Belgravia Branch
Account Name:Decanter Enterprises
Account Number 914 000 1066 780
Stanbic Bank, Belgravia Branch
Account Name: Decanter Enterprises
Account Number: 914 0000 907 994
*151*2*3*161479#
Ref #: Trainee's Name
************************** TAB BREAK ****************************